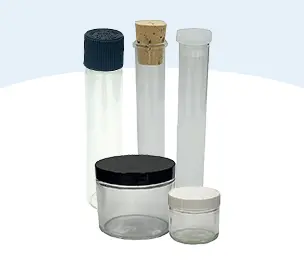 Glass Pre-Roll Packaging Containers
Cannabis related business can look no further than Acme Vial and Glass to provide a versatile assortment of glass packaging and closures. Glass vials are excellent for the storage and distribution of cannabis, pre-rolls and oils. Presentations in glass project an image of quality and brand excellence.
Glass packaging provides maximum visibility while maintaining supreme product integrity.
Safeguard your packaging with child resistant caps or choose from a variety of closures to further enhance your one of a kind packaging.
If the vial you are looking to source is not within our stock product line please contact us about custom manufacturing options.
| Image | Item # | Diameter | Length | Thread | Dram | ML | Ounce | Options |
| --- | --- | --- | --- | --- | --- | --- | --- | --- |
With cannabis becoming increasingly legal to possess and use in states across the country, it's critical for dispensaries to have packaging that falls in line with regulations. There are plenty of options out there, but there's one particular packaging method that's a game-changer: glass pre-roll tubes.
What Are Glass Pre-roll Tubes?
If you aren't familiar with glass pre-roll tubes yet, not to worry. We're here to answer your questions. Pre-roll tubes are meant to store cannabis pre-rolls in a way that keeps the joint fresh and secure. They're generally cylindrical in shape and can be made from various materials, one of which is glass. Glass pre-roll tubes are among the best storage options for pre-rolled joint holders.
Does My Business Need Custom Glass Pre-Roll Containers?
The short answer here is a resounding yes. Pre-rolled joints are convenient, but that's not the only reason for their popularity. People use cannabis for all sorts of reasons, some of which include medical conditions that may make it difficult to roll the joint themselves. When purchasing a pre-roll, it's always best to have packaging specifically for that joint, hence the need for pre-roll containers. Why glass, though? Glass pre-roll containers can be made to fit in with packaging requirements such as the need to be child-resistant, tamper-evident, resealable, and even opaque if necessary. They're also durable and can be visually appealing. Not only that, but they're not hard to customize either. Custom pre-roll packaging can be a great way to build a brand, which can attract more dispensaries to your manufacturing business.
Is Pre Roll Packaging Smell Proof?
It's common for people to feel concerned that others might detect the scent of cannabis around them. Typically, most people don't want to advertise that they're carrying it around, even if it's in areas where it's completely legal. Not all pre-roll packaging is inherently smell-proof, but those made out of glass can bee. For a container to be smell-proof, it must be airtight, and it must be sealed properly to avoid any scent from escaping.
Can I Use Pre-roll Packaging for Edibles?
There is some overlap in pre-roll packaging that can be used for edibles. Whether it can be used will depend on the type of edible and the packaging. Generally speaking, packaging for cannabis edibles needs to be opaque, so if your intention is to manufacture a line of products that can be used for both pre-rolls and edibles, you'll need to keep that in mind. The size of the edibles will also matter. Obviously, smaller edibles will usually fit into pre-roll packaging better.
Can I Fit a Blunt into a Pre-roll Tube?
As with the edibles, size matters here. If the pre-roll joint holder is the right size, it will be possible to fit a blunt in it. King size blunts (109 mm) will need a king-size pre-roll tube. If the blunt is smaller (for example, 84mm), there are likely a few more options for pre-roll containers that it will fit into well enough.
If you're a manufacturer in the cannabis industry, and you haven't gotten in on glass pre-roll tubes as a packaging option, it's definitely something worth considering. Since they are convenient, smell-proof, and visually appealing, glass pre-roll tubes are a real winner for people who use cannabis. Really, they're a must-have item for dispensaries. Take advantage of the opportunity to get in on this game-changing packaging option and establish yourself even more firmly as a manufacturer of quality cannabis packaging.